Get witch-crafty with your kids in the kitchen this spooky season. Celebrate Halloween with 3 simple ideas – devilish baking (like the spooky ones above baked by Mary & Kate), ghoulish pumpkin carving, or make your own non-toxic, edible face paints, yes, you got that right, they are edible!
1: RIP Grave Cupcakes
These RIP cupcakes are easy to make with kids and for little monsters to sink their fangs into! Kate made these blood red velvet cupcakes with cream cheese frosting, needless to say, it was deadly!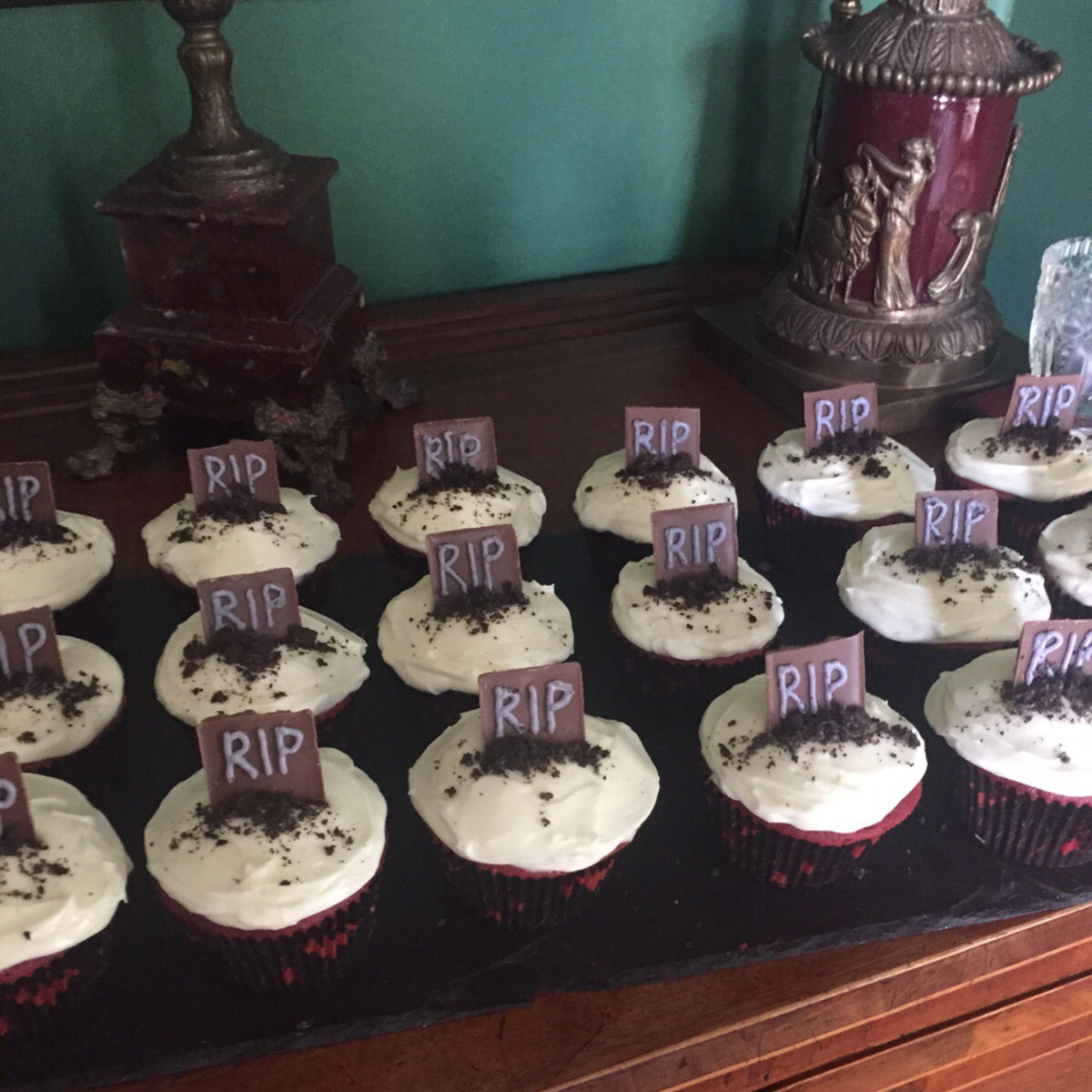 Ingredients:
Cadbury's dairy milk little bar or any bar of thin chocolate
Food colouring: purple, green or red would work well too
Buttercream icing of your choice
Pack of Oreos
Recommended supplies:
Method:
Prepare your iced cupcakes for decorating using an easy or your favourite cupcake recipe. Break the thin chocolate bars into 2 or 3 even pieces for the headstones, make sure you have enough space to write on. Mix a small amount of food colouring with the buttercream icing. Assemble the piping bag with a writing nozzle.
Trick: Sit the piping bag into a tall glass and fold the edge of the bag over the rim. Fill the bag with a little coloured icing.
Pipe the letters 'RIP' on the top half of the chocolate pieces and let dry. Stick the bottom half into your prepared iced cupcakes.
Treat: Separate one side of a few Oreo biscuits and crumble them up, eat the other half as a treat!
Spinkle the crumbled Oreos onto the base of the chocolate headstone…ashes to ashes, dust to dust. Now that's done, you may Rest in Peace.
2: Homemade Edible & Non-Toxic Face Paint
Make your own non-toxic face paint with readily available, edible ingredients from your very own kitchen pantry. Warning: it's entirely edible, a zombie's favourite!
Ingredients:
Few drops of 100% Natural Food colouring, depending on intensity
2 tsp of corn flour
1 tsp of honey
1 tsp water
Method:
Add the ingredients except water in a small bowl. Stir in water slowly, adding a little at a time. Add less water for a thicker consistency, or adjust by adding a little plain flour for a thick, pasty effect. Mix well and transfer into little pots or jars. This will make one edible colour.
Trick: Paint your face and add some edible glitter to attract eerie stares and ghostly attention. For an extra-terrestrial experience, stick on some edible sugar eyeballs (too bad they aren't googly) on your painted face, and spook your neighbours and passersby.
Note: Natural food colouring may stain clothing. Wash your skin with warm water and cleanser, food colour residue can be removed with makeup remover or baby lotion. Please check ingredients for allergens.
3: Pumpkin Craving
Host a family Jack O' Lantern Carving Competition and create some spine-chilling Halloween pumpkins. You don't need to be an expert to carve ghoulish gourds, all you need is some vegetable tools and flickering lights to BOO!
We recommend using these:
Eddingtons Pumpkin Carving Kit 3pc Set
Zyliss 3 In 1 Pumpkin & Squash Tool
Triangle Fruit Decorator Knife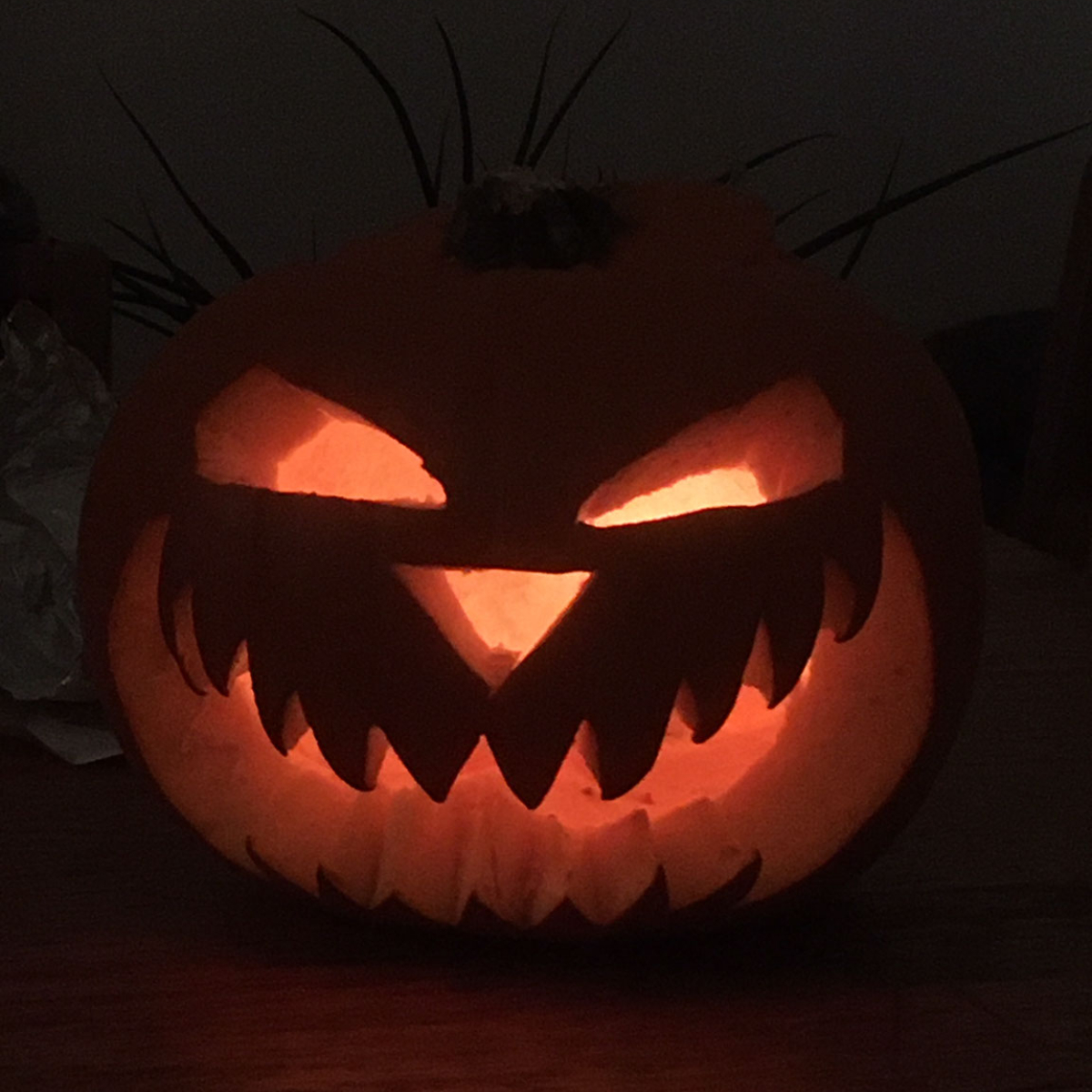 Trick: Find an easy template online, print and trace it onto your pumpkins.
Treat: Don't throw out the pumpkin guts, with a chant and a dance, you could make a witches' brew, a creamy pumpkin soup!
Note: Adult supervision is advised for this activity.
Happy Trick or Treating!
The Kitchen Whisk Team
For more Halloween baking tools and supplies, click here. Pop over and join us on Facebook and Instagram for more updates.